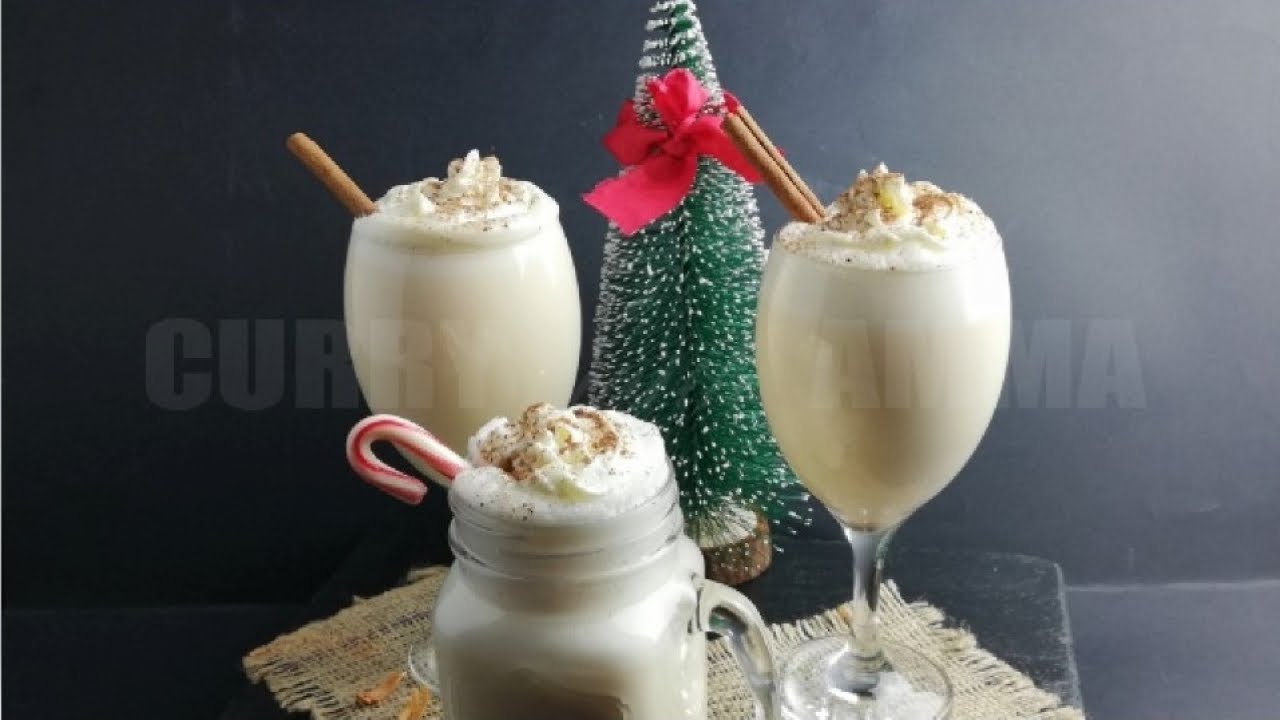 Advertisement
A Christmas Special Traditional Milk Beverage – Non Alcoholic Cooked Version – Perfect Recipe

(It is a traditional beverage consumed mainly during the Christmas season, though originated in British, now more prevalently consumed in US, Canada & Australia. Many of us in India are also now widely preparing this drink during Christmas season. There is cooked and uncooked version of this recipe. In western countries they consume this drink with alcohol which turns out to be a milk punch. But here I am sharing the recipe of cooked and non-alcoholic version of easy homemade recipe of Traditional EGG NOG. This is a rich, chilled, sweetened, spiced and frothy beverage made with milk, egg, heavy cream, sugar and flavoured with Cinnamon, Nutmeg and Vanilla.
Hence if at all you are planning to prepare a delicious beverage at home during this X'mas season, what better than an EGGNOG to celebrate. So are you in a mood for it, here is an easy recipe you can easily whip up)
Ingredients
Milk – 2.5 cups (500 ml)
Egg – 5 nos
Sugar – ½ cup
Heavy Cream – 2 cup
Whipping Cream – ½ cup
Cinnamon Sticks – 5 nos
Vanilla Essence – 1-1 ½ tsp
Nutmeg (Shaved) – ½ tsp
Salt – 1 pinch
Method of preparation
Take a bowl and add the eggs. Using a hand whisk, whisk and cream up the eggs well. Add the sugar and whisk again with the egg yolk until creamy and pale yellow in colour.
Keep a sauce pan on stove and add the milk along with one cinnamon stick for flavouring. Keeping on low flame, let the milk to be hot (don't let it to boil) and add the heavy cream and mix well and simmer for a while. Switch off the flame. Add 2-3 laddles of this mixture one by one to the egg yolk mixture making sure you whisk the egg yolk mixture continuously so that the egg yolk gets slightly cooked and tempered. Now add this mixture back into the saucepan of the milk mixture. Simmer the mixture until it reaches approx. 70 degrees (160F) (use a milk thermometer if you have, to be on the safer side). Most of us won't be having a thermometer at home; so check the milk, continuously whisking, simmer until / before tiny bubbles appear in the surface of the milk (if the mixture gets boiled, the egg and the milk may get curdled). Switch off the flame at this stage. Keep on whisking at this stage too. Keep the saucepan in a bowl of water to reduce the temperature of the mixture suddenly, so that it won't boil again. Let the mixture turn to room temperature within an hour. Sieve the mixture through a strainer to remove any small lumps in it. Now add a pinch of salt, nutmeg powder (freshly shaved nutmeg is recommended for better flavor), and vanilla essence and mix well. Fill in a glass bottle and refrigerate for 2-3 hours until it gets chilled. Since alcohol is not added in this recipe, this drink can be refrigerated for a maximum of 2 days before you consume it.
Fill the serving glass 3/4th with EGG NOG mix and fill the rest with the whipped cream and sprinkle on top with nutmeg powder and insert the cinnamon stick to serve in the traditional way.
Get chilled during this X'mas time !!!!! Enjoy !!!!
Believe me…this is super delicious…
If you haven't subscribed to our channel…pls feel free to do that now by pressing the SUBSCRIBE button and BELL icon too and watch all our uploaded and coming videos, like, comment and share with your friends and family so that they can also watch it.
Advertisement