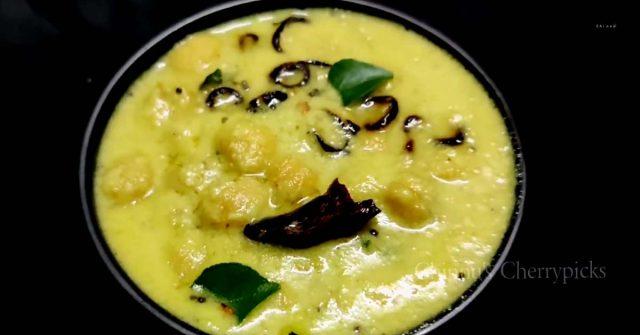 Ingredients
1 glass kadala / channa / white chickpea
onion 2 big sized
green chilli
ginger
garlic
curry leaves
oil
cloves
cinnamon
pepper
fennel seeds
cardamom
potato
turmeric powder 1/2 tsp
coriander powder 1 1/4 tsp
fennel powder 3/4 tsp
salt
coconut
cashews
coriander leaves optional
curry leaves
mustard
dry red chillies
shallots
Preparation
Heat a pressure cooker, add oil, let it heat, then add whole spices, roast it well, then add ginger and garlic, saute it for a minute , next add onion and green chilly, add salt and curry leaves too, mix all well and saute it for a minute, now add potato, channa, and turmeric, mix all well, add water, then cover the lid and cook it for 4-5 whistle.
Grind coconut with cashew and green chilly and make a smooth paste.
Once the pressure is gone, open the lid and boil it again, now add coriander powder, fennel powder and coconut paste, mix well and boil it again, finally season it with mustard, dry chilly and shallots.
for watch detailed video about Channa kuruma curry see below. for getting daily updates follow our facebook page and click see first option in following button. if you interested this. give this post to your friends and relatives.for more videos, subscribe now Chinnu's Cherrypicks